Thank you for considering making a donation to BibleSeed. Your gift would make digital gospel resources uniquely available where the most of God's servants in each nation can easily get and share them.
Mailing a check
BibleSeed
435 Merchant Walk Sq., 300 – 613
Charlottesville, VA 22902-6515
Make check payable to "BibleSeed"
For questions, call 571-210-2629.
Paypal, Debit, or Credit Card
Paypal charges 2.9% and $0.30 per donation.
BibleSeed started in late 2020. In mid-February, we applied to receive 501(C)3 tax-exempt status, which normally takes 6-9 months, but gifts from US donors are not tax deduction without this status received. In the meantime, donors who prefer a tax-deductible giving option can contact us for details through the form below or calling 571-210-2629.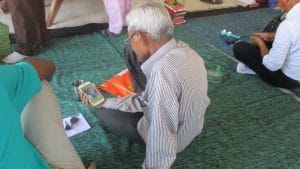 Your donation funds a sustainable method accessible to masses of people, rather than just giving away microSD cards through a few well-connected people. Broad access promote a greater desire on behalf of the nationals to regularly incorporate Bible.SD memory card distribution into their ministries and personal lives.