Answer: Your donation would fund a sustainable method, rather than just giving away microSD cards to a relatively few well-connected people. It would promote a greater desire on behalf of the nationals to regularly incorporate Bible.SD memory card distribution into their ministries and personal lives.
What happens when you mix the best Christian bookchains delivering SD cards tailored the world's most used device (cell phone) using best available Christian digital resources in local languages? You get a powerhouse combination that resources the most under-resourced people with gospel digital media.
How can your donation remove the barrier to make this happen? Content providers who make and translate Christian media are all non-profits, and they often resist the idea of allowing a corporation to make profits off of their media. In order to be a good mediator, we need to be able to say that we are not getting money from the Bible.SD memory cards we distribute, with only the retailers in these nations themselves are marking up their standard percentage that they usually do.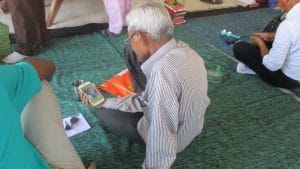 Your donations would help us access those with experience in finance, marketing, packaging, retail, video production, to make and market these Bible.SD cards. It even allows people to raise money through it to take short-term trips to developing nations to help promote gospel memory cards to Christian retail stores.  Giving helps fund some marketing expenses to promote gospel memory cards in various languages.